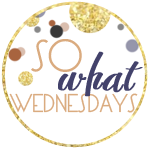 This week I am saying
SO WHAT IF...
my son loves watching movies, he doesn't just sit there and watch them, we play while they are on.
my diet has gone to crap. I love food that is bad for me, ugh.
I hate baking so I am making a non-baked item for the cookie exchange that I am going to on sunday. Trust me, you wouldn't want to eat anything that I baked most of the time.
I am still sulking about my job. I get at least until christmas to be devastated and act pathetic, right?




I havent even told a ton of people about my job fiasco because I don't want to talk about it! I still can't believe that I got caught up in legal "grey areas".... F!
I have watched tons of Christmas movies already, I dont mind watching them lots more times.
So what if I spent the entire day reading blogs and wrapping gifts, I deserved it!
I drank wine at 12:30 on monday, is there anything wrong with that?
Now I shall leave you with some HILARIOUS ecards that I found and cannot stop laughing at for yoru viewing please. We all need a good laugh on hump day!