I was so excited when I saw this link up! This is my first time participating and the first time I am going to show off my husband on the blog.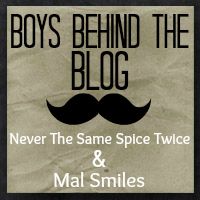 Here is Justin, the man whose answers you are about to be reading:
1. What is your favorite cereal?
Captain Crunch
2. Pancakes or waffles?
Pancakes- they remind me of my grandfather.
3. What is your favorite holiday tradition?
Going up to my grandmother's house and all of the hustle and bustle that goes on up there. It is nice to be around all of that family. Being chaotic like that makes it feel like the holidays because we have done that my whole life. Did I mention all of the food in my big italian family?
4. Finish the sentence: All I want for Christmas is...
my two front teeth! Just kidding, I have teeth.
5. What was your best moment of 2013?
I don't know that I have a best "moment" but I have really enjoyed Foster getting older and being a really fun little guy this year. We do a lot together and hang out.